Program Details
The MA in Applied Economics is a 1-year tuition-based US program in English with focus on data science. During that year, our students become curious, impact-driven personalities able to crunch the numbers and face real-world challenges.
Program Focus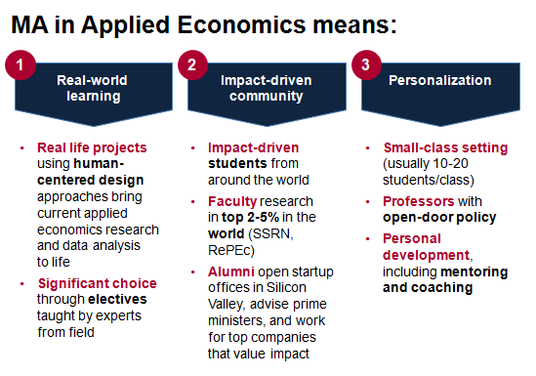 What distinguishes our graduates?
They possess a deep curiosity, and strive to understand effective tools and interventions in economics and related fields in order to use them innovatively beyond university.
They have the skills and knowledge to achieve impact, namely strong quantitative skills, superior communication skills, and experience with problem-solving techniques tested on real-world problems.
They are astute, reflective students with their own interests, values, strengths and growth areas, able to identify opportunities to catalyze change.
Ready to be part of the next MA in Applied Economics cohort? Explore the details of our program below and apply.
If you are working and still want to study, do not hesitate to This email address is being protected from spambots. You need JavaScript enabled to view it.. Individual study plans are available. We also have a number of financing options available to meet the financial needs of our students.
Program Structure
"I greatly improved my quantitative and qualitative analytical skills and gained deeper understanding of financial econometrics. This was essential training for an economist working at a central bank."

Sevinj Gahramanova, Graduate of 2012, Analyst at the Strategic Management Department, Central Bank of Azerbaijan
The program is divided into three semesters, each 13 weeks long, including one week for final exams. You will study full-time for one full academic year. If you are interested in a part-time option, contact us at This email address is being protected from spambots. You need JavaScript enabled to view it. to agree on an individual study plan.
To graduate, you need to take the classes listed below with a cumulative GPA of at least 1.75, and pay all your tuition fees.
5 core courses (Applied Microeconomic Analysis, Macroeconomic Policy Analysis, Quantitative Methods I, Quantitative Methods II, and Project Seminar).
At least 7 elective courses.
3 Communicating for Impact courses
Pass/Fail: Discovery Week (1 week orientation)
Pass/Fail: Intensive Mathematics review (1 week course)
Pass/Fail: R for Econometrics (Fall Semester, part of Quantitative Methods I)
Pass/Fail: Personal Professional Development (throughout the 3 semesters)
Most courses meet twice weekly for two 90-minute sessions. Courses often have an additional 90-minute exercise session. Personal Professional Development course has regular meetings, usually once per week. Project seminar has weekly critiques but significant portions of the class happen through consultations.
Download sample class schedule for Fall Semester, Spring Semester, and Summer Semester.
For more details see Curriculum section.
Taking three or more electives in a given area may give you a specialization, subject to course offer:
Finance;
Public Policy;
Macroeconomic Forecasting;
Corporate Economics.
The MA in Applied Economics is a US-chartered degree. Masaryk University nostrifies our diplomas in the Czech Republic.
Academic Calendar
| | |
| --- | --- |
| July and August, 2019 | Online Preparatory Semester |
| 9 - 13 September, 2019 | Discovery Week |
| 16 September - 13 December, 2019 | Fall Semester |
| 16 December, 2019 - 5 January, 2020 | Winter Break |
| 6 January - 3 April, 2020 | Spring Semester |
| 4 - 19 April, 2020 | Spring Break |
| 20 April - 17 July, 2020 | Summer Semester |
| 23 July, 2020 | Graduation |

Download the full MA in Applied Economics academic calendar for 2019-2020.