Visiting Master's
We offer master's students from other universities opportunities to visit CERGE-EI while still doing their masters. You can either aim to join an entire academic year of the MA in Economic Research / PhD in Economics program at CERGE-EI or you can come for one semester.
Visiting students take courses with our students in the MA in Economic Research and PhD in Economics programs. Being a visiting MA is an especially good opportunity for academically motivated master's students who are considering studying for a PhD in Economics and pursuing careers in the global academic sector or international organizations.
Courses offered
Visiting students at CERGE-EI can choose from the following courses:
Fall Semester:
1st year courses: Macroeconomics I, Microeconomics I, Statistics
2nd year courses (for 2019/2020, subject to change): Microeconometrics I, Time Series Econometrics, Macro Topics I, Public Finance, Experimental Economics, Economic Development and Institutions, Labor Economics
ASC courses: Academic Writing II

Spring Semester:
1st year courses: Macroeconomics II, Microeconomics II, Econometrics
2nd year courses (for 2019/2020, subject to change): Microeconometrics II, Financial Econometrics, Macro Topics II, Political Economy, Development Economics: Policy and the Private Market, Quantitative Economic History
ASC courses: Academic Writing I, Research Writing I

Summer Semester:
1st year courses: Macroeconomics III, Microeconomics III, Econometrics II
Apply to Visiting MA
Prior to applying, you must:
Be admitted to a Master's program in Economics or a closely related field at your home university; if you are unsure whether your program fits, write to us at

This email address is being protected from spambots. You need JavaScript enabled to view it.

Agree with your home university on how your grades from CERGE-EI PhD courses will be recognized; CERGE-EI cannot guarantee or help you with grade recognition
When applying indicate in your application supplement the time period in which you would like to come to CERGE-EI and what courses you would like to participate in if you are accepted. At CERGE-EI, we have 3 semesters – this system might be different than at your home university. For more information, see the Academic Calendar
Applications are considered upon request. There is no application deadline but please contact us at least two months before your planned visit.
Send the following documents in electronic form to This email address is being protected from spambots. You need JavaScript enabled to view it.:
Your letter of admission to the Master's program at your university
Application indicating that you wish to come to CERGE-EI as a Visiting Student
Curriculum vitae
Statement of motivation: 1000-2000 word statement in English explaining your academic background, interests and career goals, and how the stay at CERGE-EI will help you meet your objectives
Bachelor's degree transcript + up-to-date transcript from your Master's program
A letter of recommendation from a person familiar with your academic background, provided in a sealed envelope with the recommender's signature written across the seal (form available here, download to fill in electronically)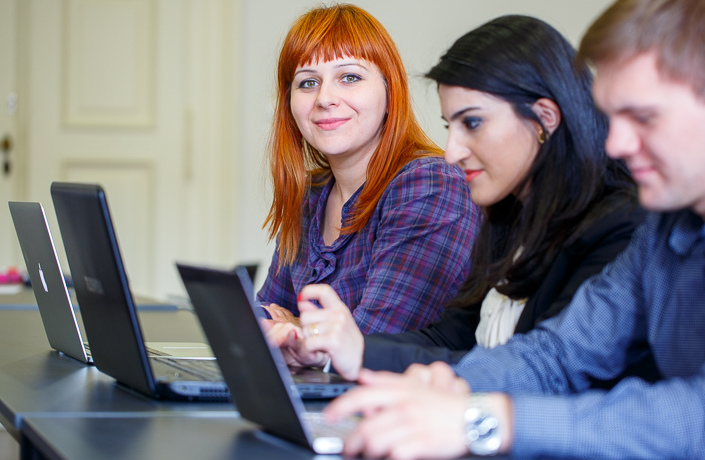 Benefits for Visiting Master's
High-quality, challenging PhD-level Economics courses at CERGE-EI.

All courses are taught in English.

Academic Skills Center

helps students develop Economics-specific language and academic skills.

No tuition fee associated with visiting CERGE-EI.

Fellowships are available

for the best students to cover living expenses.

Option to complete the PhD in Economics program at CERGE-EI later on.
Eligibility Criteria
Bachelor's degree in economics, mathematics, financial mathematics, statistics, physics, or related fields (or expectation of receiving Bachelor's degree by September of the year of the participation in the Visiting Master's Scheme).
Strong background in mathematics.
Previous education in economics is not required but desirable.
Sufficient competence in English to complete English-taught courses.
Short Term Visits
If you would like to visit us for a shorter period (or talk to a particular faculty member) please contact us at This email address is being protected from spambots. You need JavaScript enabled to view it..