NET 2014 Results
F

inal results of the New Economic Talent 2014 student competition are here! Find out who the winner is and which papers were this year's best ones.

On Friday 30th May three finalists of NET 2014 presented their papers to the CERGE-EI evaluation committee consisting of CERGE-EI visiting professors.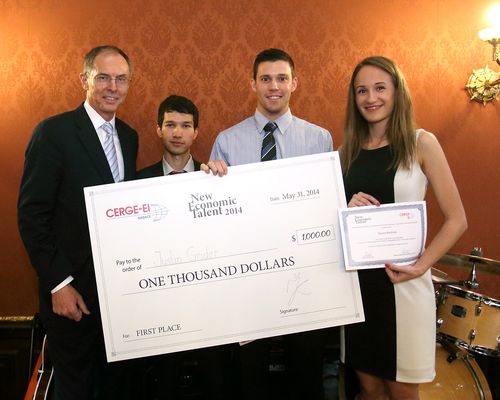 NET 2014 Finalists
Daryna Brazhnyk, Lazarski University, Warsaw, Poland
Paper: Testing rationality of consumers' inflation expectations for countries with different monetary policy regimes: cases of Poland and USA.
Abstract
Justin Grider, University of San Francisco, USA
Paper: Wheelchairs and Income: An Impact Evaluation of Wheelchair Allocation in Ethiopia
Abstract
Salim Turdaliev, Westminster International University in Tashkent, Uzbekistan
Paper: Empirical Evidence on Labor Force Participation of Married Women: The Case of Russia
Abstract
The evaluation committee gave all three finalists very thorough feedback and recommendations for their future research.
On Saturday 31st May all the finalists were invited to attend the CERGE-EI Graduation Gala where the results were announced by Prof. Jan Švejnar, founding father of CERGE-EI.
Daryna Brazhnyk and Salim Turdaliev shared second place.
Justin Grider received first prize – $1,000 USD, generously donated by Nadace CERGE-EI foundation, and he dined alongside VIP guests at the Gala. He will also receive an invitation to the Global Development Network Conference in 2015 to present his paper (his travel costs and accommodation will be covered) and a VIP ticket to the next Distinguished Speaker Series at CERGE-EI.
Congratulations to all three finalists, very well done!
We are already busy with preparing great improvements for the next year (to be announced with the next Call for Papers). Follow us on social networks to find out more.