Students' Successes
Student success is our priority. Our PhD in Economics and MA in Economic Research students actively participate in various competitions and their papers regularly collect awards. Their efforts have brought exceptional results across the region. We are proud of their success!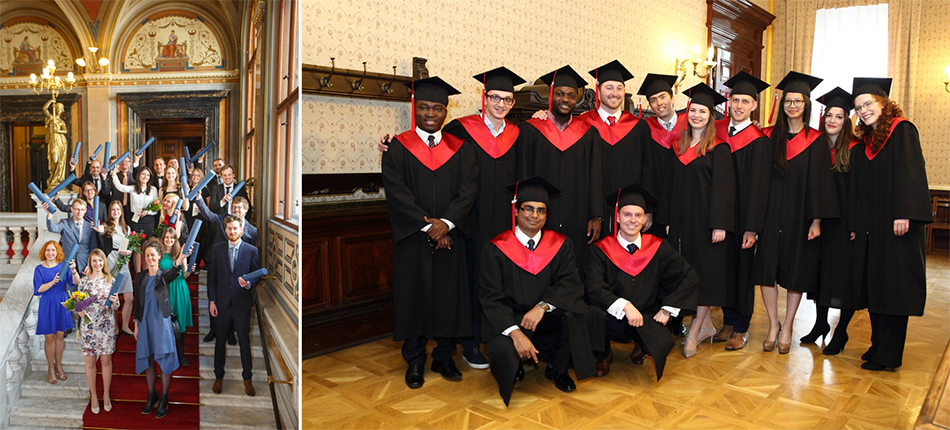 2022
PhD Job Market
We promoted seven excellent PhD Job Market candidates for 2021-22: Davit Adunts, Gegethsik Afunts, Jaroslav Groero, Nikoloz Kudashvilli, Bohdana Kurylo, Olexiy Kyrychenko, Maxim Senkov
Recent Placements
Dozens of our graduates have embarked on successful careers in the private sector, working across industries and various geographies as economists, data scientists, analysts, auditors, credit advisors, risk modelers, business directors, and machine learning specialists. Some of our fresh 2022 graduates have already secured outstanding professional placements (e.g., Kamil Kovář, who is Assistant Director at Moody´s Analytics, and Gega Todua, who works as a Risk Model Validator at Deutsche Bank in Berlin). To give an example of an outstanding academic placement, the about-to-graduate Olexiy Kyrychenko is now an Assistant Professor at the Department of Economics and Business Economics, Nijmegen School of Management at Radboud University.
2022 Second-Year Research Fellowships
Our students Azizbek Tokhirov, Lukáš Jordán and Vlada Kosenkova were awarded the 2022 Second-Year Research Fellowships sponsored by CERGE-EI. The Fellowships are awarded for the best research proposals submitted by PhD in Economics students.
Czech Economic Society's Young Economist of the Year
CERGE-EI students and recent graduates once again swept the board at the Czech Economic Society's Young Economist of the Year award ceremony. Jan Hanousek Jr. (MAE) won first place, Azizbek Tokhirov (PhD) came in second, and Ante Šterc (PhD) completed the list of laureates.
Stapleton Scholars Award
Azizbek Tokhirov, a third-year student at CERGE-EI, was the first ever recipient of the recently established Stapleton Scholars Award.
2021
2020
2019
2018
2017
2016
2015