News
Second-Year Research Fellowships Recipients Announced for 2022
3 November, 2022
The winners of this year's Second-Year Research Fellowships are known! Our students Azizbek Tokhirov, Lukáš Jordán and Vlada Kosenkova have been awarded Research Fellowships sponsored by CERGE-EI.
The Second-Year Research Fellowships are awarded for the best research proposals submitted by PhD in Economics students. The purpose of the fellowship is to facilitate the transition from course work to dissertation research and help students to fully concentrate on the first steps of their research career.
Marek Kapička and Paolo Zacchia, members of this year's academic committee, have evaluated a total of 9 student submissions and selected the following winners.
The first prize of CZK 55 000 goes to Azizbek Tokhirov. Azizbek proposes to study the effect that an ethnic conflict, which contributed to shape the recent history of Central Asia, has had on labor market outcomes and other dimensions. In addition to the intrinsic relevance of the research question, the proposal displays very promising prospects about causal identification and quality of the empirical analysis.
The second prize of CZK 45 000 goes to Lukáš Jordán, who studies the optimal fiscal policy design in a monetary union, where the central bank sets the interest rate according to the Taylor rule. The framework can be used to think about the interaction of fiscal and monetary policies across countries as well as within country.
The third prize of CZK 38 000 goes to Vlada Kosenkova. Vlada proposes to perform a laboratory experiment to quantify the extent to which the interaction between social norms and individual self-image elicits cooperative behavior, for example in public good provision. The proposal is extremely well structured and displays command of the related literature and methodologies.
Congratulations to the winners!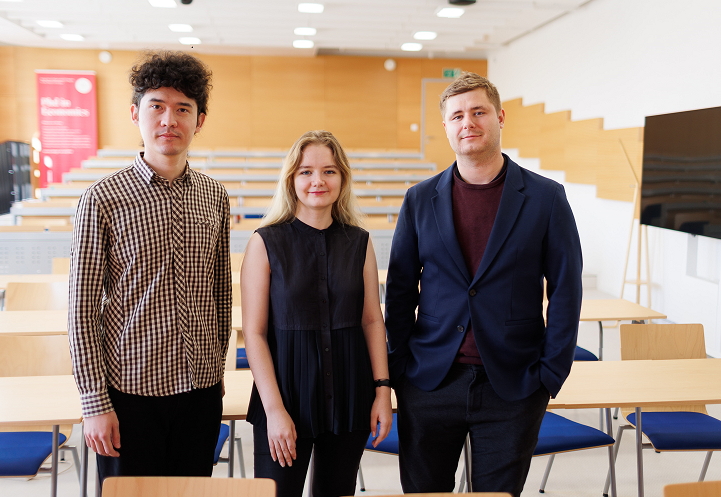 From left to right: Azizbek Tokhirov, Vlada Kosenkova and Lukáš Jordán