News
Dana Hájková: Increasing interest rates are very important for fighting high domestic inflationary pressures
27 May, 2022
What are the main causes of high inflation? Will the inflation go back to lower levels? Katarína Stehlíková asked Dana Hájková these questions in the latest episode of Talking Economics.
Inflation and monetary policy have become hot topics recently. The world economy first seemed to be heading towards recession due to Covid. Now, we face huge increases in energy prices and soaring inflation.
"We see the causes of inflation on both, demand and supply, and the factors are both, domestic and foreign. Cost factors stem from the tight labor market in the Czech Republic, as the Czech Republic has an extremely low unemployment rate," said Dana Hájková and added: "The last inflation number in the Czech Republic is for April when the inflation exceeded 14 %. Our target is 2%. Our last forecast estimate that inflation is culminating in this second quarter - will be 15% in June, and will decline gradually during the second half of this year and next year to 2%."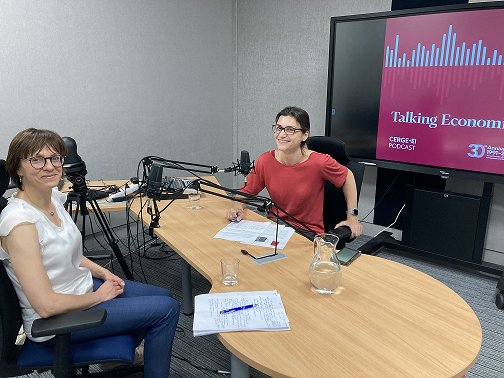 Dana Hájková is a CERGE-EI PhD in Economics alumna and Director of Monetary Policy and Fiscal Analyses Division at Czech National Bank.
You can listen to the Talking Economics Podcast on several platforms, including Spotify, Google Podcasts, Anchor.fm, and YouTube.