Living in Prague
// ARTICLE CREATION AND/OR MODIFICATION DATES // note the special format due to date() not functioning with other languages ?>
About Prague
Prague ranks among the "Top 10 Best Cities for Young People to Live In" and there are a multitude of reasons why.
Prague is a spectacular city, filled with a rich collection of cultural heritage and activities, and is one of the best-preserved medieval cities in Europe. In Prague alone there are over 40 castles and chateaux.You can stroll down Wenceslas Square (Prague's main boulevard) and within 5-7 minutes you are in the Old Town (Stare Mesto), where you can see the famous Astronomical Clock; further on, cross the historical Charles Bridge and you will see the iconic Prague Castle on the far side of the Vltava River.
CERGE-EI is located in the center of Prague (see Contact Details), within walking distance from the main cultural and tourist attractions. Here's what our students had to say:
What to do in Prague
Prague is a lively city with plenty to do. You can get involved in cultural and non-cultural events including movie festivals, photo-exhibitions, drama/theatre, music festivals and concerts, underground performances, sport events, wine festivals, beer festivals and even burger festivals. Whatever your interests, there is something to keep everyone entertained!
If you're looking for things to do and places to visit near CERGE-EI, the special student map will help you explore the multitude of places that are 'just around the corner' and now that you're living in Prague, discover Prague's hidden gems that only the locals know about using the "non-touristy" map that will suit the student budget. This map was created by the Use-it team and is updated yearly.
In Prague there is a large community of foreigners, commonly referred to as Expats. They have created the website, http://www.expats.cz where you can find a lot of useful tips and information on everything a foreigner might need to successfully discover in order to integrate into the Czech world.
The Czech Republic is home to some of the best beer in the world but you can be the judge of that and taste it for yourself! See http://www.praguepubs.co.uk for a list of almost 50 pubs and bars in Prague (and these are just selected few), which could be the starting point of your research into the world of Czech Beer and Czech Cuisine.
Discover where and what can you do free of charge in Prague at https://www.facebook.com/PrahaZdarma. There are a few sources to help you mark your calendars accordingly and make sure you don't miss out on some spectacular events: http://www.festivalguide.cz and http://www.pragueeventscalendar.com.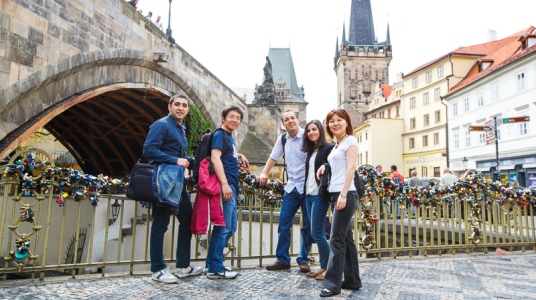 Keep up with the on-going CERGE-EI events: join us on Facebook and read our Blog.